Rick Russell Loggersports Competition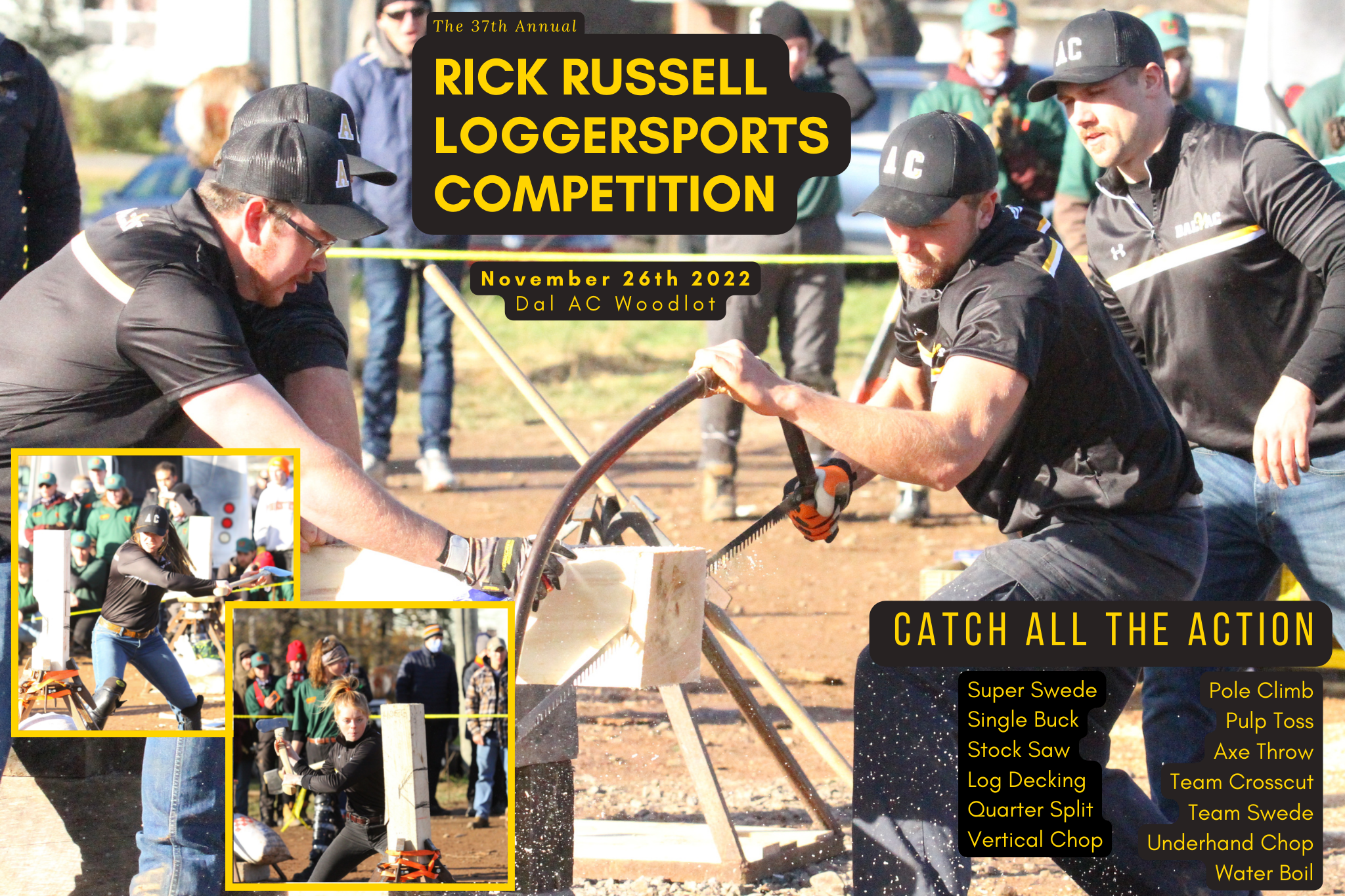 37th Annual Rick Russell Loggersports Competition
November 26, 2022

Dal AC Woodlot   
Bible Hill, Nova Scotia
Admission: $5 (Children 12 and under are free!)
Schedule of Events:
Morning (9:30am onwards)
Stock Saw
Super Swede
Pole Climb
Crosscut to the Death
Single Buck
Axe Throw
Quarter Split
Pitts
Decking
Afternoon (1pm onwards)
Team Swede 
Team Crosscut
Standing Chop
Underhand Chop
Waterboil
Sponsors
Rick Russell Loggersports Competition History
The AC Loggersports Team (previously named Woodsmen) first started during the 1965-1966 academic year when a small group of AC students travelled to Montreal and accepted an invitation from MacDonald College to compete at their Winter Carnival Woodsmen Competition.
The AC Loggersports team has steadily grown since its formation in 1965. With the addition of the University of New Brunswick and the Sir Sanford Flemming College competitions, the AC was getting a lot of experience travelling and competing at Timbersport competitions.
Rick Russell first enrolled at NSAC in September of 1977. Rick quickly followed his older brother's steps and joined the Loggersports Team and played as a student for three years. After Rick's tenure as a student was over, he began working in the Hog Barn, stayed involved with the team and became an Assistant Coach in 1980. After one year as Assistant Coach, Rick took over the reigns as head coach of the NSAC Team in 1981.
In 1985, Rick laid the groundwork for what would become, and remain, one of the college's most anticipated weekends. As Rick organized the first competition, it became known as 'The Rick Russell Woodsmen Competition' and has remained a popular event for students, faculty and the community ever since 1985.

Rick remained head coach of the AC team up until his passing in July of 2004. Rick was not only the leader of the AC team, he was an ambassador to the sport and helped improve and regulate collegiate loggersport competition through the formation of CILA (Canadian Intercollegiate Lumberjacking Association).
In recognition of Rick's contribution to the sport and the AC, the AC Loggersport compeition continues to bear his name.
"Life's journey is not to arrive at your grave safely in a well preserved body, but rather to skid in sideways, totally worn out, shouting WOW...what a Ride"
Richard "Rick" Russell
1959-2004