Wickwire Field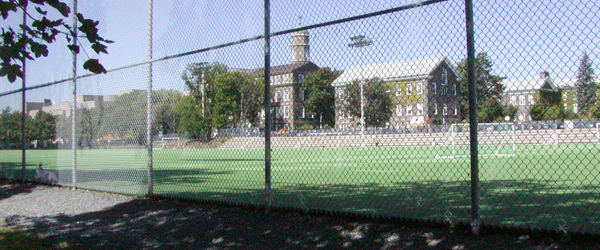 Wickwire Field is Dalhousie's main outdoor sport facility, a superb asset for Dalhousie University students but also a key facility for programs offered by many local amateur sport associations.

Home of the Dalhousie Tigers varsity men's and women's soccer teams, and home base for the field hockey, football, lacrosse, and rugby club teams. In 1995 the field was renamed from Studley Field to F.B Wickwire Memorial Field.

The Dalhousie intramural program is incredibly active at Wickwire as well, where you'll see a barrage of students taking part in flag football, soccer and ultimate Frisbee throughout the fall season.

Wickwire Field is located at the corner of Alumni Crescent and South Street. Click here to locate Wickwire Field on Dalhousie's campus map.
Quick Facts:

Resurfaced in 2021 with FieldTurf CORE, a rigid monofilament fibre with a reinforced core designed to facilitate optimal durability, realistic play, and positive player safety, for the longest possible duration while a surface is in use.
3  cross  fields, running across the width of the surface, with each measuring 55 x 36.5m. Premiere cross field has a full 18 yard box and a kicking wall
Feature soccer field which measures 110 yards by 75 yard. Additional markings for football, lacrosse and field hockey 
Outdoor scoreboard and concrete stands (seats up to 1200). 
Outdoor lighting allowing evening use
Washroom and general locker room facilities located in nearby Studley Gymnasium
The field sees approximately 3000 or more hours of use annually