News
»
Go to news main
International Women's Day 2023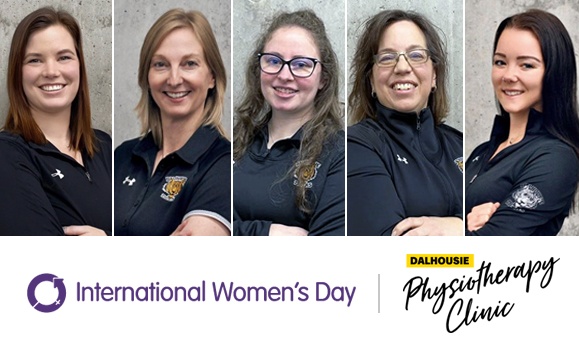 We have many women working in Dalhousie's Department of Athletics & Recreation and we're very proud of the work they do and the role they play in providing more gender-inclusive environments and opportunities in the field of athletics and recreation.
Meet the women of the Dalhousie Physiotherapy Clinic.
Rhonda Reardon
A senior physiotherapist and the clinic manager, Rhonda earned a Bachelor of Science in Physiotherapy from the University of Saskatchewan. She also holds a Diploma of Advanced Manual and Manipulative Therapy from the National Orthopaedic Division of the Canadian Physiotherapy Association and a master of Rehabilitation Science from McMaster University.
She has been actively involved in the physiotherapy profession serving on a number of executives both provincially and nationally. She also was a past co-chair of the National Orthopaedic Division Symposium and is currently the International Federation of Orthopaedic Manipulative Physical Therapists junior rep on the executive of the Canadian Academy of Manipulative Physiotherapists. 
Rhonda feels strongly in collaborative care and her approach to rehabilitation is patient-centred and evidence-based. With a focus on neuromusculoskeletal health, her clinical interest is in movement analysis and rehabilitation to assist each patient achieve their functional goals.
Hailey West
Hailey received her Master of Science in Physiotherapy in the fall of 2021. She moved to Halifax in 2013 to pursue an undergraduate degree at Dalhousie - earning her Bachelor of Science in Kinesiology in 2017 in addition to a Certificate of Disability Management.  
Much of Hailey's time on campus was dedicated to the Dalhousie Student Athletic Trainer Program, working with numerous teams such as men's hockey and lacrosse, to her final years as head trainer of the men's volleyball team. Hailey was also a member of the first women's lacrosse team at Dal, spending four years as their starting goalie.
In an effort to expand access to healthcare for women in Nova Scotia, Hailey has also acquired training in pelvic floor physiotherapy and offers this as a new service at the Dalhousie Physiotherapy Clinic. She is certified to treat pelvic floor conditions pertaining to female urinary incontinence and plans to advance her training in this area as she continues to build her clinical experience.  
Samantha Horner
Sam completed her Master of Science in Physiotherapy in 2020. She moved to Halifax from a small town in Ontario to complete her Bachelor of Science in Kinesiology from Dalhousie in 2015 in addition to a Certificate of Disability Management.
Sam spent much of her time as the head trainer for the men's basketball team throughout her undergraduate degree and was named 2016 Athletic Trainer of the Year. Sam helped lay the groundwork for enhancing the trainer's program and in the development of the Dalhousie Physiotherapy Clinic. 
She is hoping to continue to advance her knowledge and clinical expertise through the orthopaedic division. She has completed Concussion Rehab Works Level 1 and hopes to continue to build her knowledge to help support her patients. She will be taking her Sports First Responder Course and Level 1 Dry Needling this upcoming Spring.


Lori Wilson
After graduating from Early Childhood Education and working with children and youth programs for years Lori switched gears and has found her passion working in patient-focused environments.
Lori has been onboarding with the clinic since Spring of 2021 in an administrative assistant role and is an energetic and enthusiastic face in the clinic. Being from a small town in rural Nova Scotia, Lori enjoys the community vibe Dalhousie and the Dalhousie Physiotherapy Clinic offer, determined to make patients feel welcome and comfortable in the clinic.


Shelley MacNeil
One of the administrative assistants, Shelley has spent much of her life working in several administrative roles throughout the Halifax area and is thrilled to bring her skills and friendly personality to the clinic.
Shelley comes from a military family background and has lived in Germany and numerous Canadian provinces with family roots eventually planted in the Annapolis Valley. Shelley is married with three kids and in her spare time she enjoys gardening, camping and exploring new places/making new memories with her friends and family.
Taylor Walker
Taylor completed her Bachelor of Science in Kinesiology and a Certificate in Disability Management at Dalhousie. During her time at Dalhousie, she was also the head trainer in the Dalhousie Athletic Trainer Program for a couple years working with the women's hockey team.
Taylor has always had a love for sports, growing up she played soccer and field hockey. In her time away from the clinic Taylor loves to travel, she's been to over 20 countries and has many more on her bucket list. When it comes to Nova Scotia fun you can usually find Taylor with friends or reading.