News
»
Go to news main
David Garner selected as new Fitness Coordinator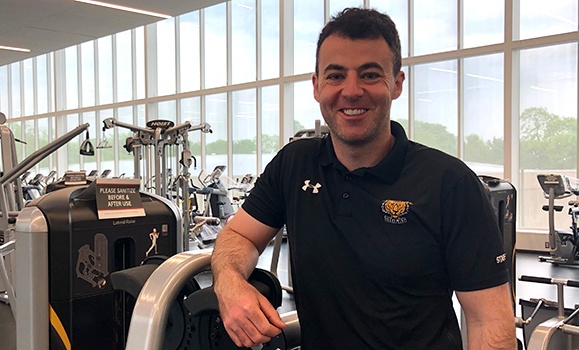 We're pleased to announce the appointment of David Garner as our new Fitness Coordinator.
Many of you will recognize David who has been serving as one of our Client Experience Supervisors since July 2020. He came to Dalhousie's Department of Athletics and Recreation after a stint as a general manager for Goodlife in New Brunswick and five years as a police officer in his native Scotland.
He also works in the personal coaching industry facilitating team building and culture change management and speaks regularly at conferences on the subject of resiliency. David played semi-professional soccer in Australia while becoming a level four personal trainer and level three spin instructor through the Australian Fitness Academy.
"The search committee was very impressed with David's ability to communicate, his belief in and personal practice in the value of a healthy lifestyle and his strong passion for creating a positive workplace culture," says Kathie Wheadon, Director, Facility and Business Services. "I believe his energy and passion will benefit the entire department and our members. I am very much looking forward to working with David in his new role."
David will be assuming the role from Anne Falconer on June 14 who is retiring after a 30-year career. He has some short- and long term- goals established to start this next chapter.
"My short-term goals are to ensure that my team understands the importance of their roles, and how they can influence someone's day in a positive way each shift they work," says David. "I am a culture-oriented individual, so creating an amazing workplace with committed staff is of paramount importance to ensuring operational success. With that groundwork in place, I aim to establish us as an industry leader when it comes to offerings, standards, and overall stakeholder satisfaction."
"I know Anne will be missed and I'd like to acknowledge the great job she has done and wish her all the happiness in the world in her retirement,' he adds.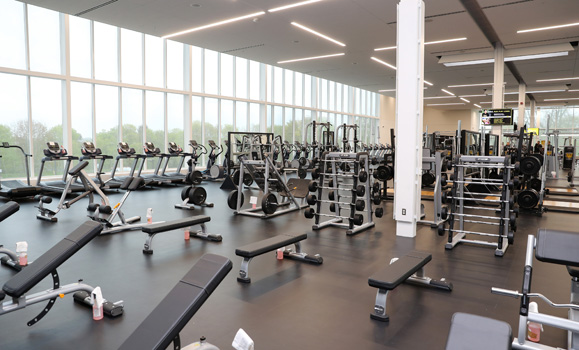 Q&A with David
1.       What is your mantra when it comes to health and wellness?
My mantra is that we should spend our lives focussing more on the things we can control, and our own health and wellness is one of the most important things that we have power over. 
2.       How do you stay fit?
I am an avid runner (I recently completed a half marathon in a PB time of 1:42.37 and I love calisthenics (pull-ups, push-ups, etc.). I also love a hot yoga session and prefer to walk the golf course for some extra steps. And of course, Spin class, which I am very much looking forward to getting back into.


3.       What do you think are some emerging trends in fitness?
There is an emerging trend with respects to the effectiveness of high intensity interval training, which is part of the encompassment of the "less can be more" mantra. With more access to science and data, people are becoming more aware that they don't need to spend hours and hours a day to achieve their desired goals.
4.       How do you think the pandemic has impacted the fitness industry?
Covid-19 has forced a lot of us to modify the way we work out, but it has drummed home that the most important component of health and wellbeing is our mindset (i.e. if we want to get a work-out in, there's a way to do it)
I think a lot of people have found different ways to work out (and to hold themselves accountable to their goals) however the social element of fitness has been drastically impacted, and I expect that once things do return to 'normal', people will be excited to get back to their favourite spot/class.
5.       What are you looking most forward to in your new role?
The interactions. With so many people on the team and so many people coming into the building to use our services, there is so much scope for great conversations with a wide range of people from all over the world.