News
»
Go to news main
Anne Falconer to retire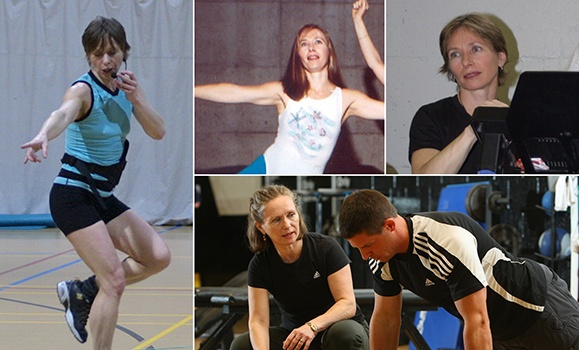 After 30 years with Dalhousie's Department of Athletics and Recreation, Anne Falconer is saying goodbye to Dalplex.
Falconer joined the department as a fitness instructor in 1990. She gradually took on more responsibility, eventually receiving the title of Fitness Coordinator in June of 2010.
A Saint Mary's (BA) and Dalhousie (BEd) graduate, Falconer has accumulated a wide range of certifications within the fitness industry over the years. She is a Canadian Professional Trainers Network (CPTN) certified personal trainer and a Nova Scotia Fitness Association (NSFA) group exercise leader and former course conductor. She also has certifications in resistance training, Aquafit, indoor cycling and somatics to name just a few.
Falconer developed her passion for fitness after being unwell for a number of months. She observed her first fitness class and instantly fell in love with the idea of people coming together to move to music and gradually started to join in. Eventually, she felt compelled to help motivate others to get fit in a fun and supportive environment and decided to make a career out of it.
When asked what has inspired her to keep going, her answer is pretty simple.
"I have met so many people and heard so many individual stories in my career," says Falconer. "I am inspired by what people can achieve by taking it one step at a time, and by how hard they work to overcome obstacles to achieve their goals. I'm honoured to play a role in that success."
The fitness industry has changed a lot in 30 years, most of it guided by research and more recently a change in mind-set.
"The fitness industry has become broader and more encompassing," notes Falconer. "Standards are higher, and there is more information available on a huge variety of topics. There  is so much research supporting exercise as medicine that more and more people are making active living and exercise a priority and are looking for support in doing so. There is a bigger emphasis on the mind-body connection, and the role exercise can play in reducing stress and helping to improve mental health. There is less focus on an ideal body weight and more focus on working with the body you are in to be the best you can be."
The on-going COVID-19 pandemic has also had a big impact on the industry.
"This is a particularly challenging time, and the industry is continually adapting," she adds. "Fitness professionals have played a big role in encouraging and enabling people to maintain or improve their health and fitness during the pandemic and will continue to play a role as we move past it."
Falconer may be leaving Dalplex, but she certainly won't be leaving her love of fitness behind as she looks ahead to retirement and already has some plans.
"I want to see how fit I can get," she says. "I'm looking forward to spending more time with family here in Canada and in Norway. I'm also looking forward to spending more time outdoors hiking and gardening, catching up on reading and playing music."
Looking back on her time at Dalplex, Falconer has many highlights, most of which involve members/students gaining confidence in their ability to make exercise a part of their lives and expressing the will to make that a lifetime commitment.
"Knowing that I've been able to have an impact on people's lives is especially meaningful to me. I am grateful to have had the opportunity to work in the field I love, and to have met so many inspiring people of all backgrounds and ages. Dalplex has offered challenges that pushed me to learn new skills and to expand my knowledge. I have been lucky to work with a great team who share a common goal of making Dalplex the best facility in the province."
"Anne is one of the most dedicated people I have ever had the privilege to work with and is a class act through and through," says Director of Facilities and Business Services, Kathie Wheadon. "She has led, mentored and guided participants and staff with expertise and empathy. We are so grateful for Anne's contributions and wish her a happy, healthy and joy-filled retirement."
Falconer's last official day is June 30, 2021, but she will be staying on a little longer to train Dalplex's new Fitness Coordinator to ensure a smooth transition.