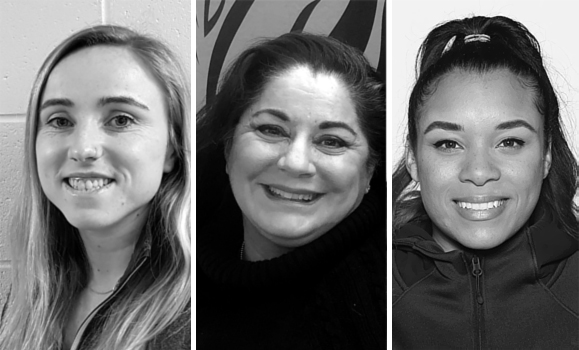 There are many women working in Dalhousie's Department of Athletics & Recreation and we're very proud of the work they do and the role they play in providing more gender-inclusive environments and opportunities in the field of athletics and recreation.
Meet three of these amazing women.
Emily Lerette
Emily joined the Tigers team in August 2021 when she moved home from Ontario. One of our facility supervisors, Emily's drive to succeed is powered by pride. As a former high-level basketball player, she is always striving to learn, improve and perform at her best both on and off the court.
Much of Emily's work in athletics and recreation can be physically demanding. More often than not, she is the only female in a group of men doing the same work and is regularly underestimated. As someone who is passionate about pushing boundaries, she is motivated to prove them wrong and continue to advocate for gender equality by showcasing her talents and support her female colleagues.
Marika Williams
Marika is in her first year as an assistant coach with the women's basketball team. Originally from Lucasville, NS, Marika played five years at Mount Saint Vincent University where she was co-captain in her final year and was awarded with conference and national all-star honours. She began her coaching career with the Bedford Eagles, continued with Basketball Nova Scotia; head coaching U14 girls for two seasons and assisting with the U17 girls who finished seventh at Nationals in 2019, and most recently Dartmouth High School, where she led them to three undefeated seasons, boasting a 74-0 record.
Markia recently gave birth to her second child, a boy, on January 22, 2022.
Georgena Theoharopoulos
Our Client Experience Manager, Georgena has been with us since August 2017. She spent many years in the cruise industry before joining athletics and recreation. Georgena works hard to ensure all Dalplex members feel welcome and valued. Client experience is not a one-size-fits all type of mindset so she believes that going that extra mile to meet an individual's needs is key to a positive experience for everyone.
Georgena is also committed to fostering an environment that dismantles binary gender norms by using affirming names and pronouns. Encouraging client experience staff to be mindful of the language they use and how they address members is a big part of their training.