News
»
Go to news main
Kathie Wheadon to retire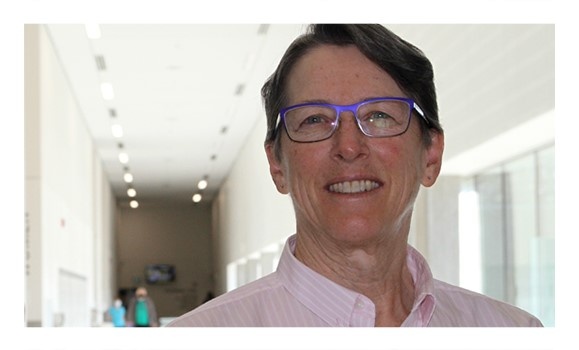 After over 41 years in university athletics, Dalhousie's director of facility and business services, Kathie Wheadon will be retiring in December 2021.
Wheadon first came to work in the athletics and recreation department in the fall of 1980 after completing a Bachelor of Arts in history and political Science at Mount Allison University. In her four years at Mount Allison, she was a member of both the varsity basketball and field hockey teams in addition to serving on many committee including the Student Administrative Council and University Discipline and Athletic committees.
Having filled many roles over the years, Wheadon has seen a lot of change happen within athletics and recreation at Dalhousie – most notably with the addition of the new Fitness Centre to Dalplex, which had only been open for about a year (1979) before she started.
She's also seen two turf replacements on Wickwire Field and more recently has overseen new floors and bleachers in the Dalplex fieldhouse and Dalplex pool and Sexton Gym renovations.
"I've always relished the unglamorous side of facility operations," says Wheadon. "Facility services, memberships, budgets, staffing, scheduling, programs, planning – keeping the doors open and the facilities safe and clean are just as important as the bigger projects. I am proud of my contribution to our overall operations, the new Fitness Centre and other major facility renewal projects."
Wheadon served as an assistant coach with the Dalhousie women's basketball team for two years and assumed the role of head coach during the 1990-91 season while long-time head coach Carolyn Savoy was on a one-year sabbatical. She led them to an 11-3 regular season record and a silver medal finish at the AUAA championship. The AUAA coach of the year that season, she has also coached at Mount Saint Vincent and the University of King's College, earning coach of the year honours at both schools in addition to being a two-time conference coach of the year. Wheadon was also an assistant coach with Nova Scotia's 1987 Canada Games Team.
In addition to her work in athletics, Wheadon has had a tremendous impact on other parts of campus initiating the Active Health Project in 2016 and served on the Healthy Dal Collaborative for many years. She was also a long-time member of the Recreation Facility Association of Nova Scotia, serving as both a board member and vice president in addition to several other committees and organizations throughout the years.
"Both our campus and community will feel the void of Kathie's retirement after decades of outstanding service within our department," says Dalhousie's Executive Director of Athletics and Recreation, Tim Maloney. "On behalf of our entire team at Dalhousie, I want to express our sincere gratitude for Kathie's countless contributions and wish her the very best in retirement."
After 41 years, Wheadon has earned some well-deserved downtime to make more time for her family and commit more time to her own health and wellness but knows it will be an adjustment.
"I will miss my team, my colleagues across the university, the students (and hundreds of student staff) and our members," says Wheadon. "I'll also miss making contributions to the success of all who benefit from the athletic facilities and programs as I believe in the significant and positive impact they have in people's lives and our students' on-campus experience."
"It has been a privilege working my entire career at Dalhousie and forging this incredible journey," adds Wheadon. "My heartfelt thanks to all who mentored, collaborated, supported, challenged, laughed with (and at), believed in and pushed me. I am truly blessed to have been able to pursue a career in a field I love and believe in – thank you!"
Wheadon's last day is Tuesday, December 21. The search for a new associate director of operations and facilities has begun and should be filled in early 2022.