News
»
Go to news main
Happy International Women's Day!
Posted by
Dalhousie Sports Information
on March 8, 2021 in
Current News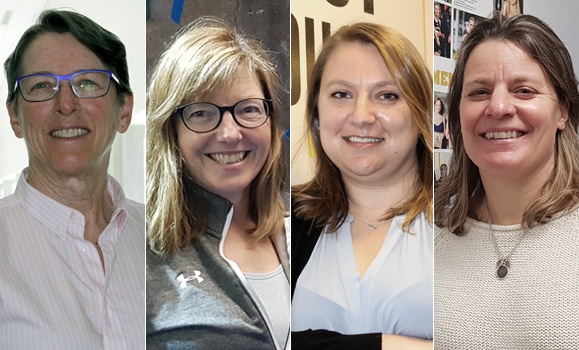 We have many women working in Dalhousie's Department of Athletics & Recreation and we're very proud of the work they do and the role they play in providing more gender-inclusive environments and opportunities in the field of athletics and recreation.
Meet four of these amazing women.
Kathie Wheadon, Director Facility & Business Services
Kathie has been with us since 1980 in many different roles. She is driven by the deep-rooted belief in the positive impact the Department of Athletics & Recreation plays in the lives of students, faculty and staff and the surrounding community.
She believes strongly in gender-inclusivity and works with her colleagues and teams with a particular focus on hiring procedures, language used in member communications and listening to feedback and finding ways to address and eliminate inequity.
Heather Reynolds, Climbing Coordinator
Heather first joined our team in 2002, bringing climbing to Dalplex. A Climbing Wall Association certified Provider Trainer and Lead Instructor; she is passionate about getting people moving.
Statistics show there is roughly a 50-50 split in the gender of climbing participants in North America, but more women are needed in the field of routesetting within the sport. Heather is passionate about recruiting women to attend the routesetting courses she offers to advance women in the field.
Chelsea Norris, Event & Communications Coordinator
One of newest and youngest members of the full-time staff in the Department of Athletics & Recreation at Dal, Chelsea has experienced gender-inequality in some of the many volunteer roles she has held in the soccer community. She has learned a number of tactics like advocating for an equal voice for female soccer players in her Club to help combat gender inequality and endeavours to apply them in both her professional and volunteer positions.
She strives to hire female student staff in a variety of roles and use diverse visuals and voices in the department's marketing and communications assets to ensure gender equality.
Cindy Tye, High Performance Manager & Women's Soccer Coach
Cindy joined the women's soccer team as head coach in 2016. As a woman in a position of leadership, she feels there are a number of things she can do to level the playing field when it comes to gender equality. Modelling behaviour and providing an environment where young women can grow, and gain confidence leads them to understand they bring value.
Cindy is also passionate about working with other female coaches both formally and informally to create networks of support and she's not afraid to speak up to help shift perceptions on the role women and girls play in sport.