Cheerleading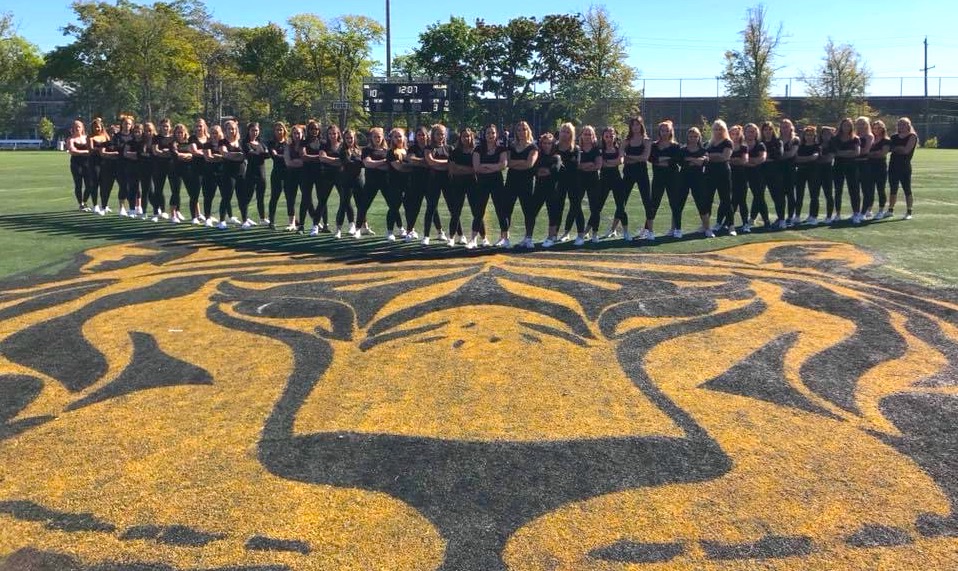 'Dal Cheer' is a competitive university level 4.2 team representing the Dalhousie Tigers.
Dalhousie Cheerleading (Dal Cheer) is a student-run cheerleading team that supports varsity and club teams, and competes in local competitions. The work ethic of Dal Cheer's athletes is reflected in five University National Championship awards in their division.
Team Commitment 
Dal Cheer trains five hours per week and competes annually at local competitions (typically Maritime Meltdown, Cheer Blast, and Cheer Expo) in addition to supporting Dalhousie varsity and club teams. 
Practices
| | | |
| --- | --- | --- |
| Thursdays | 7:30pm-10:30pm | Dalplex |
| Sundays | 3:45pm-5:45pm | West Halifax Cheer |
Interested in Joining?
Email cheer@dal.ca or explore their website for more information. Be sure to follow Dal Cheer on Instagram and Facebook!
Dal Cheer executives and athletes actively strive to create a team that is inclusive and equitable. No prior experience is necessary to try-out, however, previous cheerleading, gymnastics, or dance training is an asset.
Club Executive and Coaches
| | |
| --- | --- |
| Captain | Maren Shea |
| Assistant Captain | Kelcie Burke |
| Assistant Captain | Brooklyn Babcock |
| Coaches | Rachel Webb & Leah McNeil |
2022-23 Roster
| Name | Position | Year | Program |
| --- | --- | --- | --- |
| Abigail Strang | Flyer | 2 | Kinesiology |
| Abigail Russo | Base | 1 | Arts |
| Alayah Jeddore | Base | 3 | Medical Sciences |
| Annabelle Winkelmann | Back | 2 | Arts & Social Sciences |
| Bria Gallant | Base | 3 | Medical Sciences |
| Bridget MacDonnell | Flyer | 1 | Kinesiology |
| Brooklyn Babcock | Back | 4 | Law, Justice and Society/History |
| Brylee Yorke | Back | 2 | Nursing |
| Charlotte Powell | Back | 2 | Marine Biology |
| Courtney Toney | Flyer | 1 | Nursing |
| Emma Martin | Base | 3 | Marine Biology |
| Emma Martin | Back | 1 | International Development Studies |
| Grace Simpson | Base | 2 | Law |
| Hallie Rainbow | Flyer | 1 | Arts |
| Jade Wyrcimaga | Back | 1 | Commerce |
| Kacey Straub | Back | 3 | Math |
| Katie Deagle | Base | 3 | Biology |
| Kelcie Burke | Flyer | 4 | Medical Sciences |
| Laura Rafuse | Back | 3 | Performing Arts |
| Lauryn Dunlop | Back | 1 | Kinesiology |
| Lisa Caruso | Base | 1 | Commerce |
| Livvy Postma | Base | 3 | Radiological Technology |
| Macy King | Base | 1 | Social Science |
| Maddin Laffin-Santiago | Flyer | 2 | Medical Sciences |
| Madison Walcott  | Base | 2 | Medical Sciences |
| Malaya Douglas | Base | 1 | Arts |
| Maren Shea | Flyer | 3 | Nursing |
| Melayne Carson | Base | 1 | Arts |
| Marissa Ostridge | Base | 1 | Integrated Science |
| Natalie Barte | Flyer | 4 | Psychology |
| Piper Smith | Base | 1 | Management |
| Rose Tsitrin | Back | 3 | Medical Sciences |
| Savannah Lewis | Back | 3 | Kinesiology |
| Skylar Frazao | Base | 1 | Science |
| Sofia Sanchez | Base/back | 1 | Science |
| Sophie Keddy | Base | 3 | Biology |
| Kyra Dunphy | Base | 1 | Arts |